MDYD INAUGURAL CEREMONY VICTORY AWARD RECIPIENTS
ON FEBRUARY 2, 2017 IN NEW YORK CITY
Introduction to My Daughter Your Daughter Victory Award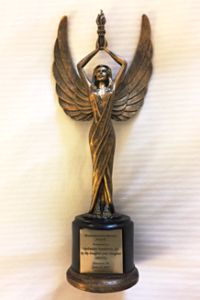 VICTORY AWARD is symbolically represented, as you can easily see, by a winged young woman holding up a torch and whose feet are firmly planted on a solid rock.
MDYD young lady holds out a torch above her head to illuminate mankind to the glowing reality of our daughters not only being our future leaders but fully representative of a great future for our planet.
MDYD young women stretches out her hand above her head to indicate the strength and resilience of womanhood to continue to carry on despite the harrowing experiences of crime perpetrated against our young women in the like of sexual abuse, sex trade, domestic violence, forced labor, and deprivation and education.
MDYD young lady wings are symbolic of her willingness and ability to be an Angel, and to be a mother for all seasons, ready to protect, to nurture, and to uplift women for the betterment of mankind.
MDYD young women feet are firmly planted on solid rock, indicating that wherever she finds herself, she is solidly grounded in the impactful influence that can only lead ti achievement and success.
Therefore, Be it Known To All And Sundry, that in recognition of the recipient indefatigable efforts to be an Angel, mother, and tower of strength for womanhood, and her consistency in establishing programs, support systems that are designed to empower women and emancipate them from the shackles of poverty and destitution, in accordance with the statutes and instruments establishing MY DAUGHTER YOUR DAUGHTER, take pride in presenting such a Victory Award under the authority of MY DAUGHTER YOUR DAUGHTER, and herewith merited all the rights and privileges incident to this award in furtherance on greater accomplishment.
H.E. HRH, (Rev. Dr.) Prince A.Z.K. Adekoya, II., Ph.D., CDKA
President I CEO MY DAUGHTER YOUR DAUGHTER
Ambassador Phil Murphy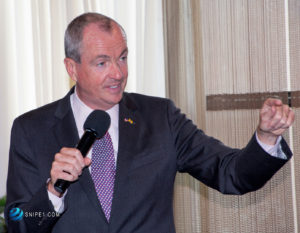 Growing up, Phil's family lived paycheck to paycheck. His mom was a secretary, his dad never graduated high school and took any job he thought could help him support his family – even working as a pallbearer. Phil's first job at thirteen was washing dishes in a local diner. Phil put himself through Harvard on loans and part-time jobs. After earning a graduate degree at the Wharton School at the University of Pennsylvania, he started his career at the bottom, working his way up to help lead major international business by learning how economies grow and create jobs. Nationally, Phil proudly served on the board of NAACP, the world's oldest civil rights organization. Since announcing his run for governor, Phil has been endorsed by more than one hundred African American faith leaders from across the state.
Dr. Una Clarke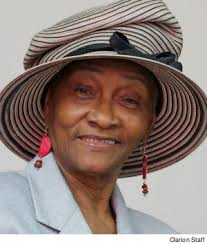 On June 18, 2015, New York City Mayor Bill de Blasio appointed Una Clarke to the Board of Trustees of the City University of New York (CUNY). Experienced Professional Educator, Legislator & Finance Professional. Over 40 years of experience in the fields of Finance, Education and the New York City Legislature. Served in the New York City Council as a representative for the 40th NYC Council District of Brooklyn. Served on the committees of Health, Youth General Welfare (Human Services), Economic Development and Aging, New York City Council, representing the 40th District in Brooklyn. Served on the commissions of Health, Youth, General Welfare, Economic Development, and Aging. Chaired the committee on Mental Health, Mental Retardation, Developmental Disabilities, and Substance Abuse Services.
Jeanelle Drysdale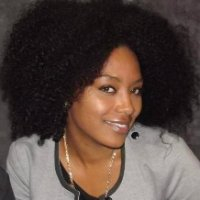 Jeanelle, Brooklyn native born to St. Lucian and Belizean parents and one of 6 kids. She is living out her passion for spreading the gospel and empowering youth as the area director for Young Life in the Bedford-Stuyvesant area of Brooklyn. Young Life is an international youth ministry that focuses on introducing adolescents to a relationship with Christ and helps them grow in their faith. Jeanelle also is a freelancing journalist, capturing the stories of many through radio, television, and writing. Jeanelle holds a Bachelors of Arts degree in Sociology from Stony Brook University and a Master's in Divinity degree from Alliance Theological Seminary, Nyack College.
Queen Yalikha Soumah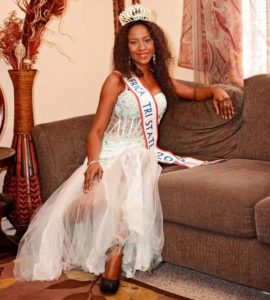 Queen Yalikha Soumah came to the United States two years ago from Guinea. She enrolled at Mercer County College notwithstanding that English was her second language. She was crowned Miss Africa Tri State in 2015, in this capacity she has helped and given back to the community both here in the USA and back home in Guinea. In August 2016, 1308 school supplies (notebooks, pens, pencils and education books) were shipped to Guinea. The objective of this was to facilitate access to education for children in Guinea. The students of the Bill Clinton School in Malolo GUINEA (Conakry) benefited from this donation. She has made countless donations to "TASK" Trenton Area Soup Kitchen (New Jersey) including clothes, shoes (about 350) and foods through the HOPE initiative which aims to provide a smile and consolation to the less privileged by offering gifts. She continuously donates her time and resources to the homeless across New Jersey. She is indeed a young woman that has compassion for making a difference in the lives of others around her.
Lt. Sharon Easton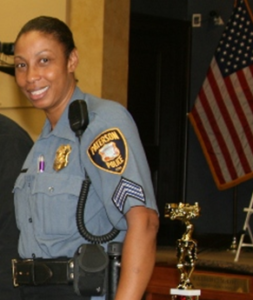 Paterson Police Department I New Jersey
Sharon has worked for the Paterson Police Department for over 30 years; she graduated from the Paterson Police Academy in 1989. She is currently the supervisor for the Community Police Division. She was promoted to Lieutenant December 2016. While assigned to the Paterson Housing Authority and with the blessing of the Paterson Police Department, she has coordinated several successful programs. The most popular programs to date are the Teen Summits, which has won 2 Nationals Nahro Awards, which recognizes program throughout the country in all Housing Authority's the Teen Summits starting in 1996 and drew 75 youth the first year. Now the summits are attended by over 1,000 youth each year since 2011. In 2008 and 2012 Sharon attended the New York Film Academy (NYFA) and NYU majoring in television and film.
Violeta Galagarza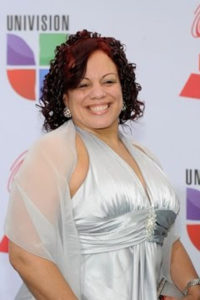 Creative Director and Founder of KR3TS, Violeta Galagarza builder known as "V" was a student of LaGuardia Performing Arts High School and went on to study at Alvin Allery American Dance Theater.
Violeta, as a young mother was told she could not continue her dreams of being a dancer; but she refused to listen and started KR3TS in 1989. More than 5000 students of all ages and ethnic backgrounds have experienced fortitude within her multifaced Spanish Harlem- based dance haven. Several of them have performed on world tours with artists such as Rhianna, Beyoncé, Usher, Kelly Rowland, Missy Elliott.   It's been 25 years, and still, Galagarza remains steadfast in her commitment to sharing her undying passion for dance worldwide. She believes that kind and loving human beings can change the world. Violeta's heartfelt story of dedication, compassion, and resilience earned her NY1's New Yorker of the week' and a segment on TLC's "Cover Shot" The very memorable "Cover Shot" episode ended with the production crew shocking and blindfolded Violeta by secretly unveiling an enormous Times Square billboard of Violeta and her dancers. Violeta's authentic deeds have been featured in the NT Daily News, NY Post, Times OUT New York, the Iraq Daily Times. We B*Girlz (a book by Martha Cooper and Nika Kramer), on Fox 5 in NYC, CBS 2 and New York's Pix11 News, to name a few.
MDYD POST  INAUGURAL VICTORY AWARD RECIPIENTS
MDYD AWARD PRESENTED TO:
Dr. Esther Eke-Huber
At: UgoSunday Charity Foundation Charity Gala
Titled "BE LIFTED"
Greg Jackson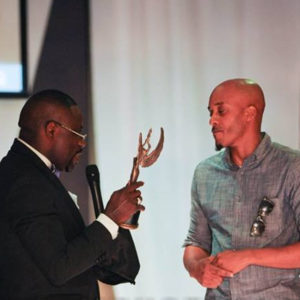 At: Charlotte International Fashion Week
Title: Runway for Peace
on April 29, 2017, Charlotte, North Carolina
HIS EXCELLENCY (Amb.) TETE ANTONIO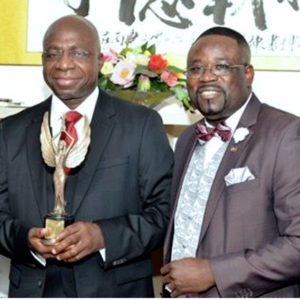 Ambassador Tete Antonio, a trained economist, has been the Permanent Observer of the African Union to the United Nations since 2009. Mr. António received a master's degree in international economic relations from the University of Kiev in the Ukraine in 1988.  He studied at the Faculty of Economics, University of Agostinho Neto, in Luanda (1979-1982), and has studied conflict management and prevention through the Carter Center (1996) and preventive diplomacy at Columbia University (2005).